All Monsters Attack (ゴジラ•ミニラ•ガバラ オール 怪獣大進撃,   Gojira Minira Gabara: Ōru Kaijū Daishingeki?, lit. Godzilla, Minilla, and Gabara: All Monsters Attack) is a 1969 tokusatsu kaiju film produced by Toho Company Ltd., and the tenth installment in the Godzilla series as well as the Showa series. The film was released to Japanese theaters on December 20, 1969.
Plot
Ichiro Miki is a highly imaginative but lonely latchkey kid growing up in urban Tokyo. Every day he comes home to his family's empty apartment. His only friends are a toymaker named Shinpei Inami and a young girl named Sachiko. Every day after school, Ichiro is terrorized by a gang of bullies led by a child named Gabara. To escape his loneliness, Ichiro fantasizes about visiting Monster Island, where he befriends Minilla, the son of Godzilla, who has the inexplicable power to change his size and speak human language. During these daydreams, Ichiro watches as Minilla deals with his own bully, a monster also named Gabara. It is through these fantasies that he learns how to face his fears and fight back. These lessons also grant him the courage to outwit two bumbling bank robbers, as well as have the guts to stand up to Gabara and his gang in a final confrontation.
Staff
Staff role on the left, staff member's name on the right.
Cast
Actor's name on the left, character played on the right.
Tomonori Yazaki as Ichiro Miki
Eisei Amamoto as Toy Consultant Shinpei Inami
Sachio Sakai as Bank Robber Senbayashi
Kazuo Suzuki as Bank Robber Okuda
Kenji Sahara as Ichiro's Father Kenkichi Miki
Machiko Naka as Ichiro's Mother Tamie Miki
Shigeki Ishida as Landlord
Midori Uchiyama as Saichiko
Junichi Ito as Gabara boy
Yoshifumi Tajima as Detective
Chotaro Togin as Assistant Detective
Yutaka Sada as Trainman
Yutaka Nakayama as Billboard Painter
Ikio Sawamura as Bartender
Midori Uchiyama as Minilla (voice)
Appearances
Alternate titles
Godzilla, Minilla, Gabara: All Monsters Attack (Literal Japanese title)
Godzilla's Revenge (United States)
Attack All Monsters (Original international title)
Minya, Son of Godzilla (Alternate American title)
The Island of the Monsters (La isla de los monstruos; Spain)
The Return of Gorgo (Il ritorno di Gorgo; Italy)
Theatrical releases
Japan - December 20, 1969
United States - December 8, 1971
Italy - 1969
Portugal - January 2, 1970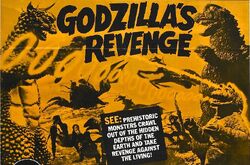 All Monsters Attack was released on December 8, 1971 by Maron Films aka UPA as Godzilla's Revenge on a double bill with Island of the Burning Damned in North American theaters. There are some minor alterations:
Dialogue is dubbed to English.
The Japanese version featured the vocal song Monster March over the opening credits, while the American version features the instrumental jazz piece "Crime Fiction" composed by Ervin Jereb.
In the American version, Minilla is called "Minya," and is given a goofy male voice, while he was voiced by a female actress in the Japanese version.
In 1998 the U.S version was released by Simitar in DVD.
Box office
In Japan, the film sold 1,480,000 tickets. This was over a million tickets less than the previous Godzilla film, Destroy All Monsters, and it was the first Godzilla film to sell less than 2 million tickets.
Reception
All Monsters Attack has gained very negative reviews from Godzilla fans, considering it the weakest of all the Godzilla films.
Home media releases
Simitar (1998)[1]
Released: May 6, 1998
Region: Region 1
Language: English (Dolby Digital 1.0), English (Dolby Digital 5.1)
Format: Color, Full Screen, Letterboxed, Widescreen, NTSC
Other Details: 2.35:1 aspect ratio, 70 minutes run time, 1 disc, American version
Classic Media (2002)[2]
Released: September 17, 2002
Region: Region `
Language: English
Format: Closed-captioned, Color, Dolby, NTSC
Other Details: 1.33:1 aspect ratio, 70 minutes run time, 1 disc, American version
Toho (2004)
Released: 2004
Region: Region 2
Language: Japanese
Madman (2006)
Released: 2006
Region: Region 4
Classic Media (2008)[3]
Released: July 1, 2012
Region: Region 1
Language: Japanese, English
Format: Multiple Formats, Anamorphic, Widescreen, NTSC, Color, Subtitled
Other Details: 2.35:1 aspect ratio, 69 minutes run time, 1 disc, Japanese and American version
Trivia
References
This is a list of references for All Monsters Attack. These citations are used to identify the reliable sources on which this article is based. These references appear inside articles in the form of superscript numbers, which look like this: [1]
Film media
Godzilla films
Showa era

Heisei era

Millennium series

TriStar series

MonsterVerse

Reiwa era

King Kong films

RKO Pictures
Showa era
Paramount
Universal

MonsterVerse

Mothra films

Showa era

Heisei era

Gamera films

Showa era

Heisei era

2015 short film

Other films

Showa era

Heisei era

Miscellaneous

Cancelled or scrapped films

Showa era

Heisei era

Millennium series

American films

TriStar series

MonsterVerse
Community content is available under
CC-BY-SA
unless otherwise noted.