Stub
This article is a stub. Please help Gojipedia by adding proper information on this subject.
Godzilla
Biological Information
Homeworld

Earth

Species

Irradiated amphibious prehistoric reptile

Gender

Male

Height

75 meters

Affiliation Information
Allies
Production Information
Created by

Hanna-Barbera Productions

Portrayed by
Roar
First appearance
Last appearance
The animated series Godzilla is the incarnation of Godzilla which appeared during the 1978 series, Godzilla. He was voiced by Ted Cassidy.
Name
The name "Godzilla" is a transliteration of Gojira (ゴジラ?), a combination of two Japanese words: gorira (ゴリラ?), meaning gorilla, and kujira (鯨 or クジラ), meaning whale.
Design
Appearance
This Godzilla stands out from all the other Godzilla incarnations in that he is completely green. The first three dorsal plates running down his back are unlike those in any Godzilla, but from the fourth downwards are similar to Godzilla's trademark maple leaf-shaped dorsal plates. Another notable thing is how his arms are very flexible, like late Showa Godzilla designs, whose arm flexibility was human-like and different from the Godzillas of the rest of the franchise.
Roar
The roar for the animated Godzilla is a dramatic departure from his Showa era counterparts, sounding much more human in origin than before.
History
Godzilla made his American series debut with Hanna-Barbera's Godzilla, where he traveled alongside the Calico crew, with Godzooky, fighting many different monsters from 1978 to 1980.
Abilities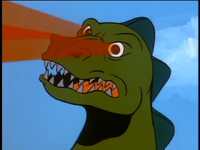 Fire breath
In the series, Godzilla could breath fire instead of his atomic breath. This fire breath doesn't seem to be as powerful as his atomic breath in the movies and other media.
Superstrength
Like all Godzillas, he possesses great physical strength.
Laser beams
Godzilla could also shoot red laser beams out of his eyes in addition to breathing fire.
Intelligence
Godzilla shows that he is far from being just a gigantic beast that attacks the wilderness, and that several times he has shown great ability to deal with enemies with strategies to ambush them and can avoid catastrophes such as barring a dam about to break.
Weaknesses
Sonic blasts
Sonic blasts from the Earth Eater were effective in briefly repelling Godzilla, allowing the monster to escape.
Trivia
His size varies from each appearance in the series, sometimes he's large enough to carry a whole ship and other times he is just large enough to have two people in his hand. But according to some sources he stands about 75 meters tall.
He is the first Godzilla to be officially green, the second behind this incarnation was the Millennium Godzilla.
List of appearances