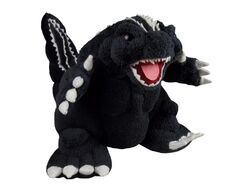 The limited edition Godzilla 1989 plush by Toynami is a roaring plush figure of Godzilla.
Information
The plush was made by Toynami and released on September 2015 in a limited quantity of only 1989 worldwide, in reference to the Godzilla it's directly based on. When squeezed, the plush lets out Godzilla's roar.
The plush is approximately 12" x 12" x 12" and weighs 1.40 pounds.
Gallery
External Links
Merchandise
Godzilla toy lines
North American toy lines

Japanese toy lines

Gamera toy lines

Japanese toy lines

Miscellaneous merchandise

Godzilla

Godzilla 1989 Plush (Toynami)