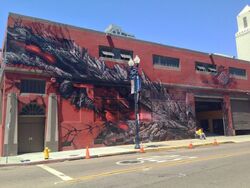 The Godzilla Encounter is an exhibit located in San Diego, California, which first opened in July 2013, at a near date to San Diego Comic-Con 2013.
One of the attractions of this exhibit is a "ride" where you could go up on an elevator in a building, and you would see Godzilla outside in a dark rainy weather, walking by two times. The first is several meters away, and the second pass-by has Godzilla looking right inside through the windows.
Notable exhibits
Application

An app for the Godzilla Encounter exhibit was developed by Legendary Pictures for the iTunes app store. The app is meant to be used when visiting the exhibit.
It had the following features:
Geiger Counter - The starting section of the app.
Camera - Take pictures.

Sharing - Share pictures on FaceBook, Twitter and Instagram. Photos can be retaken and their backgrounds/designs can be changed. Designs include Normal, Survivor, Tokyo, and Classified.

Translator - Look for the Legendary icon and scan one of the Japanese posters that were originally posted on the Godzilla Encounter website to see what they mean in English.
Gallery