The Gohten (宇宙防衛艦 轟天,   Uchū Bōei-kan Gōten?, lit. Space Defense Ship Goten) is a drill-nosed spaceship which first appeared in the 1977 Toho film The War in Space.
History

Stub
This article is a stub. Please help Gojipedia by adding proper information on this subject.
The Gohten is the flagship of the human fleet. After a vicious battle against the Messiah 13 aliens around the spaceship's base, it travels to Venus. Afterwards, it travels across the planet in search of the Alien base.
Gallery
Video Game Appearances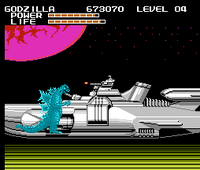 In this side-scrolling game produced for the NES, the Gohten is one of several opponents the player has a chance of fighting in Hyperspace areas of each level. The Gohten will fire upon the player using its various cannons, but will otherwise stay stationary. The player can choose to destroy the Gohten by attacking its cannons, or simply walk to the right and leave the Hyperspace area.
Trivia
The Gohten is an obvious homage to the Gotengo.
The Gohten is the second in a line of vehicles produced by Toho which have drill weapons on their noses, with its predecessor being the Gotengo itself.
Weapons and vehicles
Weapons