Gowarackdon (ゴワラックドン,   Gowarakkudon?) is a fire-breathing kaiju created by Toho that first appeared in episode 23 of the 1973 tokusatsu series, Go! Greenman titled Greenman vs. Gowarackdon.
Appearance
Gowarackdon somewhat resembles a prosauropod in appearance. His skin is a light gold and covered in elaborate patterns of scales, and he has large, powerful hands.

History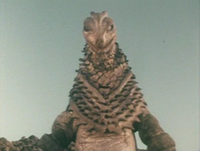 Gowarackdon was the twenty-third monster to battle Greenman.