| | | |
| --- | --- | --- |
| | This article is under construction. | |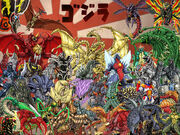 This is a list of all monsters that have appeared in the Godzilla franchise so far confirmed, organized by the medium they appeared in using order of introduction, plus the thing they were introduced in and not which thing they originally came from: for example, Mothra was introduced to the Godzilla series in Mothra vs. Godzilla, so she is listed under "Films" as "Mothra (Mothra vs. Godzilla)." The list also lists the introductions of new forms for monsters.
Toho monsters that made an appearance before being in Godzilla media are marked in italics. Non-Toho monsters that made crossover, non-cameo appearances in the Godzilla series are marked in bold. This list does not include Toho monsters that have never appeared in the Godzilla series in any way.
Press Ctrl+F on Windows or Cmd+F on Mac to look for a specific monster.
Films
Television
Comics and Manga
Books
Video Games
Unmade
Miscellaneous
Crossovers
These are monsters that did not originate in Godzilla or Toho-related media, but have directly appeared in official media featuring Godzilla (not as just a reference or Easter egg).
References
This is a list of references for List of Godzilla monsters. These citations are used to identify the reliable sources on which this article is based. These references appear inside articles in the form of superscript numbers, which look like this: [1]
Community content is available under
CC-BY-SA
unless otherwise noted.