Manda (マンダ,   Manda?) is a sea dragon kaiju created by Toho that first appeared in the 1963 film Atragon
Name
Manda's name could be a combination of the Japanese words "man" (万?) and "daija" (大蛇?), which when combined mean "ten thousand serpent".
Design
Appearance
Manda's original Showa appearance, the ShodaiManda, resembles an Eastern dragon, as he has four legs, multiple horns on the head all the way down to the tail, and two barbs coming from the face. In Atragon, Manda's roar was deeper and his eyes had slit pupils.
SoshingekiManda
In Destroy All Monsters, Manda takes on a different appearance than its first form. He has more of a snake-like appearance and has no feathers, feelers, horns, or a beard. Its eyes have also changed, instead of the occasional glowing yellow eyes which only had slit pupils, this puppet has more character to its eyes sporting light blue eyes, with more circular pupils for a protagonistic approach.
Portrayal
Manda in almost every appearance is portrayed by a puppet on wires.
Roar
Manda's roars in the Showa series were primarily made from human rasps and grunts from tigers or lions. These sounds would later be reused for Godzilla's grunts and growls. In Destroy All Monsters, Manda's roars were sped up and raised in pitch.
Origins
In the Showa series, Manda was the guardian of Mu, an underwater kingdom. How Manda became its protector and how long he had been protecting it is unknown.

History
Manda was a dragon that lived in the sea and was the guardian of Mu, an underwater kingdom.
When the Gotengo attacked, Manda fought it and wrapped his body around the ship and trying to crush it. But Gotengo charged electricity and unleashed it on Manda, badly shocking him. Manda unwrapped himself and tried to swim away. Gotengo chased after, and fired the Absolute Zero Cannon, which froze Manda.
Manda was taken to live on Monsterland in Destroy All Monsters. In 1999, the Kilaaks came to Earth and took control of Manda and the other monsters of the island, and made them attack major cities around the world.
Manda attacked London, eventually ending up in Tokyo where he crushed a monorail line. Then, the people of the world freed them from the mind control, and the monsters were sent to fight King Ghidorah. Manda did not fight in the battle, and watched from the sidelines with Varan and Baragon. After King Ghidorah was defeated, Manda and the other kaiju returned to Monsterland.
Manda also made a very brief appearance in All Monsters Attack, but only in a brief glimpse of recycled stock footage.
Abilities
Constriction
Manda does not have any special weapons, but he can wrap his body around an enemy and crush them similar to how a snake constricts his prey.
Waterborne nature
Although he is slow on land, Manda can also swim very fast and can breathe while submerged in water.
Fireballs
In the video game Godzilla: Monster of Monsters, Manda has the ability to spit fireballs.
Video games
Manda appeared within the video game Godzilla: Monster of Monsters.
"
A dragon-like monster worshiped 12,000 years ago as a guardian deity of the underwater

Kingdom of Mu

. It coils its long body around its enemies and then constricts, crushing them. It first debuted in the film "Atragon" (1962). Its second appearance was in the film "Destroy All Monsters" (1968), where it was a protected species of Monsterland. However, lacking any horns or barbs, it instead grew prickles on its back in lieu of a mane. Controlled by the Kilaaks, it landed in Tokyo Bay and laid waste to the monorail and surrounding environs.

Manda appeared a third time in the film "Godzilla: Final Wars" (2004) as a deep sea monster, battling against the Gotengo in the deep waters off the cost of Normandy. The strangling attack it performs with its body is called the "Binding Breaker".

The original model for Manda had fins all the way down its side from neck to its tail. These were notably absent from its second form.
" 

— Manda Kaiju Guide bio
Comics
Manda appears in Godzilla: Rulers of Earth issue #3 along with Gezora. Manda appeared and destroys an aircraft carrier. Manda was later revealed to be a "water monster", along with Titanosaurus and Gezora. After a brief fight with Godzilla, the trio of aquatic monsters retreated. Later, the trio, now joined by a revived Destoroyah, fought Godzilla underwater. During the fight, the military used a new sonar blaster to confuse Gezora, Manda and Titanosaurus, making them flee, leaving Destoroyah to deal with Godzilla and the military. After the Devonians were defeated, Manda was seen living in the oceans near the Monster Islands. Lucy Casprell stated that Zilla was unable to get onto the island because of the monsters keeping him in the ocean and off land, Manda possibly being the cause of it. When the Trilopods invaded the Monster Islands and captured the monsters, Manda was not seen, although a Trilopod with Manda's characteristics was seen during the final battle in Los Angeles.
Manda is briefly shown in issue 1, fighting Anguirus by wrapping himself around the monster.
In other languages
Russian: Манда
Chinese: 曼达 (Màndá)
Trivia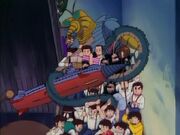 List of appearances
Films
Video games
Comics
References
Film-based kaiju
Godzilla kaiju
Showa era

Heisei era

Millennium series

TriStar series

MonsterVerse

Reiwa era

King Kong kaiju

RKO Pictures
Showa era
Paramount
Universal

MonsterVerse

Mothra kaiju

Showa era

Heisei era

Gamera kaiju

Showa era

Heisei era

Other kaiju

Showa era

Heisei era

Scrapped kaiju

Showa era

Heisei era

Millennium series

American films

TriStar series

MonsterVerse