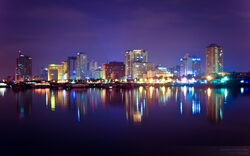 Manila is the capital city of the Philippines. It was briefly featured in the 1956 Toho film, Rodan, and the 1992 Godzilla film, Godzilla vs. Mothra.
History
After flying over Beijing, Rodan (Who was later revealed as the first of a pair of Rodans) was sighted flying above the city of Manila as he journeyed across the world at high speed.
While staying in a hotel in Manila, Takuya Fujita and his ex-wife Masako Tezuka noticed that the Cosmos were missing, as they had been stolen by Kenji Andoh and taken to the Marutomo Company.
Locations
Geographic points
Community content is available under
CC-BY-SA
unless otherwise noted.