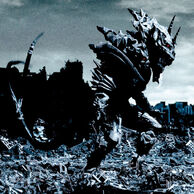 Monster X is a skeletal monster from Godzilla: Final Wars. His attacks include gravity beams from eyes, melee, and transforming into the powerful Keizer Ghidorah.
Part in film
He and Gigan double team Godzilla until Mothra interrupts and kamikazes Gigan. Monster X faces Godzilla, but realizes that only by using his true form can he defeat Godzilla.
Monster X, now Keizer Ghidorah, almost kills Godzilla, but the Gotengo powers up Godzilla and Monster X loses two heads and is sent flying into space where it explodes. |
Community content is available under
CC-BY-SA
unless otherwise noted.