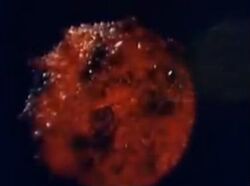 Garoga is the Garoga's home planet. It first appears in the 1973 Toho tokusatsu series, Zone Fighter.
History
In Zone Fighter not much is said about Garoga other than that it is near Peaceland, and that the two planets are enemies. The Garogas launch an attack on Peaceland, and kill almost all of its residents beside the Zone Family. They also later destroy the planet with missiles.
Filmography
Community content is available under
CC-BY-SA
unless otherwise noted.