The Rumbling (ランブリング,   Ranburingu?) is an aerial vehicle used by the Earth Defense Force that first appeared in the 2004 Godzilla film, Godzilla: Final Wars.
History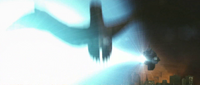 The Rumbling was sent to stop Rodan when he attacked New York. It fought Rodan before he was recaptured by the Xilien UFOs α, ß and γ. After the Xilien's plans were discovered, it was sent out to stop Rodan and the invading Xiliens again. It was destroyed not long after.
Weapons
Flight.
Can discharge an electronic ray from its central cannon.
Capable of firing eight MA-PM020 heat seeking proton missiles, simultaneously, from the hull.
Gallery
Weapons and vehicles
Weapons