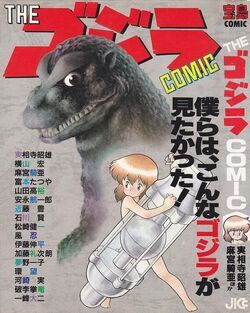 The Godzilla Comic
(THE ゴジラ COMICZa Gojira Komikku?)
is a
Japanese
anthology comic published by Takarajimasha, Inc. in January of
1990
.
[1]
Contents
The Godzilla Comic is an anthology comic featuring the work of a vast number of different artists, and 15 original stories. The tales vary from humorous parody to darker themes. The chapters are:
Chapters
Godzilla²
In a comical short by comedian and The Monster X Strikes Back: Attack the G8 Summit (among other things) director Minoru Kawasaki, Japanese pop idol Yuki Saito is invited to join the Earth Defense Force, and uses her singing to pacify Godzilla during one of his rampages.
Tokyo Godzilla Group
Another satirical take, this time poking fun at the various conference sequences of the Godzilla and other Toho monster films.
Godzilla vs. Bonsai Daughter
In a tale with a clear inspiration from Godzilla vs. Biollante, a human-bonsai creature defends the world from Godzilla. This story is more atmospheric in nature, and Godzilla only appears, in silhouette, in a single panel.
Strange Tale of Genroku Period Odo Island
In 1701, Godzilla appears and battles a group of Edo period Japanese samurai.
Monster Warrior Godzilla
Created by conceptual artist and suit actor of the VS series "Hurricane" Ryu, this story is a more abstract take on Godzilla and the Toho monsters are anthropomorphic warriors, and includes scenes of Godzilla slashing spaceships apart with a sword, and Jet Jaguar riding a motorcycle.
Godzilla: Nightmare Option
In this story Godzilla battles a monster named Gandora, and at the end mutates into a "Super Godzilla" type form.
A Small Godzilla
Written by Ultraman (among other things) director Akio Jissoji, a love story takes a turn when its revealed the object of a cameraman's affection is actually an alien attempting to control Godzilla.
Warning from G
Easily the strangest and most controversial story in the whole book, a martial arts master learns a special killing technique to use against Godzilla. Against all odds the move works and Godzilla is killed, though at the cost of his own life, leaving his pregnant wife a widow. Not long after the child is born, he starts behaving strangely, and he reveals that he is actually Godzilla reincarnated in human form before attacking his mother. The story from there takes a ride through the spirit world.
Godzilla vs. Chief Yamada
Another humorous story that's something of a crossover with the author's own Salaryman-style comic character.
Godzilla's Resumed Earth Defense Battle
Gigan and King Ghidorah return, and Godzilla and Mothra engage them in Antarctica.
Appearances
Monsters
Gallery
Trivia
Multiple monsters, who at the time had never made appearances in Godzilla films, appear in anthropomorphic form in the story "Monster Warrior Godzilla" including Sanda, Mechani-Kong, and Moguera.
Although the Space Beastman was shown to only be slightly taller than the average man in his debut film, he is shown in "Monster Warrior Godzilla" to be around the same size as Gorosaurus, Sanda, and Kamoebas who would normally tower over him.
References
Community content is available under
CC-BY-SA
unless otherwise noted.