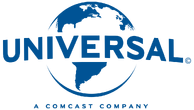 Universal Studios Inc.
, also known as
Universal Pictures
, is an American film production company headquartered in Universal City, California.
It owns the majority of rights to the character King Kong, and will co-produce the sequels to the 2013 kaiju film Pacific Rim with Legendary Pictures.
History
Universal was founded in 1912 by Carl Laemmle, Mark Dintenfass, Charles O. Baumann, Adam Kessel, Pat Powers, William Swanson, David Horsley, and Jules Brulatour as Universal Film Manufacturing Company.
In 1962, Universal acquired the American copyright to King Kong from RKO Pictures, and distributed Toho Company Ltd.'s King Kong vs. Godzilla and King Kong Escapes in the United States and Canada. Universal planned to produce their own remake of the original King Kong in the 1970s entitled The Legend of King Kong, but instead RKO chose to sell the film rights to Paramount Pictures, who produced their own remake in 1976. Universal then sued RKO for ownership of the film rights to Kong. A federal judge found that RKO did not own King Kong, only the 1933 film and its sequel, and that King Kong was rightfully owned by the estate of Merian C. Cooper. The rights to King Kong transferred to Cooper's son Richard, who sold them to Universal, who retains them to this day.
In 2013, Universal reached an agreement with Legendary Pictures to market, distribute and co-produce their films starting in 2014 following the expiration of the latter's deal with Warner Bros. Universal began production with Legendary on a new King Kong film titled Kong: Skull Island, but Legendary moved production of the film to its old partner, Warner Bros., in order to set up a crossover film with Godzilla. Universal will distribute the upcoming sequel to Legendary's 2013 film Pacific Rim in theaters across the globe in 2018.

On April 28, 2016, NBCUniversal announced it would be acquiring DreamWorks Animation for $3.8 billion, giving Universal ownership of DreamWorks Classics (formerly known as Classic Media), who owns the UPA catalog, including licence to the U.S/Canadian distribution rights to the Japanese/English versions of these Toho films: Godzilla, Godzilla Raids Again, Godzilla, King of the Monsters, Rodan, Mothra vs. Godzilla, Ghidorah: The Three-Headed Monster, Invasion of Astro-Monster, War of the Gargantuas, All Monsters Attack, and Terror of Mechagodzilla. The acquisition was completed on August 22.
Community content is available under
CC-BY-SA
unless otherwise noted.