About me
Hey guys, KoopaGalaxain here! I first came across Godzilla when I watched TriStar's movie on the exploits of Zilla and its young. Interested, and wanting to learn more, I typed in the movie's title into the internet and well, the rest is history!
On this Wiki, I mostly work on the obscure things! Stuff like A Space Godzilla, The Luminous Fairies and Mothra, and the Daimajin film articles were all set into motion by myself, alongside LesStudios! You can thank us for cleaning up and making relevant the Go! Godman, Go! Greenman and Zone Fighter articles too!
My favourite Kaiju is Destoroyah, followed by Gigan and Godzilla '54.
My Favorite Godzilla Suits (in no particular order!)
My Favorite Godzilla Monsters (In Order!)
My Favorite Godzilla Films (in no order!)
My Favourite Gamera Films
Kaiju Pokemon Cards!
Kaiju Captions!
Cool looking Bootlegs!
And now, The Gigan Dance.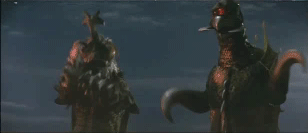 Community content is available under
CC-BY-SA
unless otherwise noted.